Aurora crystals are known by many names, iris quartz, rainbow crystal, and anandalite. Despite the many names, the crystals have the same properties regardless of what people call them and have been used for many years for all kinds of healing.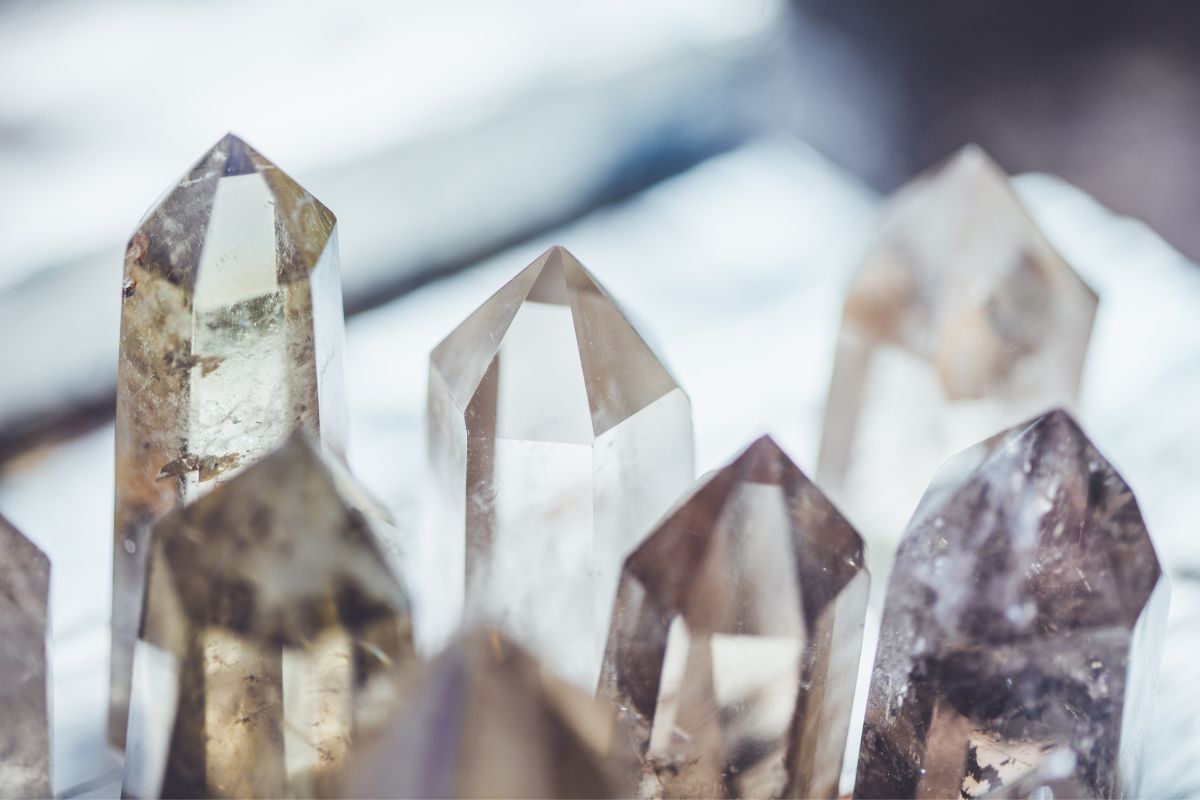 These 15 beautiful aurora crystals symbolize bliss, spiritual awakening, light, kundalini energy and emotional strength among other things. It is a high vibration crystal with a crystalline structure exhibiting flashes of rainbow colors and luminescence.
This gorgeous aurora quartz crystal displays the power of quantum consciousness and imparts a sensation of bliss. It allows kundalini awakening and releases emotional blockages to allow spiritual awakening.
Use the stone to cleanse your chakras, from the base chakra to the crown chakra and back down to the feet.
The anandalite energy also works on the heart chakra and produces emotional release to bring feelings of joy. It will also help to fulfill your true potential.
This stone weighs 139 grams and measures 60 mm x 80 mm x 30 mm.
A piece of iris quartz that comes from India which is full of natural iridescent qualities.
This is a large specimen, weighing 1 pound 4 ounces and measuring approximately 4 ½ inches by 3 ½ inches. Pieces of this size are quite rare.
India is one of the richest sources of iris quartz or aurora crystals in the world and is where the first samples were mined.
The rainbow effect from natural iridescent iris quartz is typically very subtle but in this specimen is quite evident and beautiful.
This high quality cluster of iris quartz is a gorgeous example of this kind of stone.
Perfect for enhancing and strengthening your aura this is one of the most versatile of healing crystals. It has a powerful ability to amplify any energy or intention.
It is a stone of optimism and reconciliation and allows you to overcome any kind of disappointment.
For those who need courage and encouragement this is the perfect stone for you as it also protects against negativity and relieves pain. A very versatile stone.
A gorgeous piece of iris quartz that was recently discovered in India and is thought to inspire feelings of ecstatic joy.
This particular stone has mild iridescence, a nice luster and a flat base so that the terminations naturally point upwards.
Aurora quartz is known to restore balance to the heart chakra as well as the upper chakras.
This allows you to connect with your higher self, supports your energetic body with positive energy and imparts serenity, peace and protection.
It measures 2 ¼ inches by 1 ½ inches by half an inch and weighs 48 grams.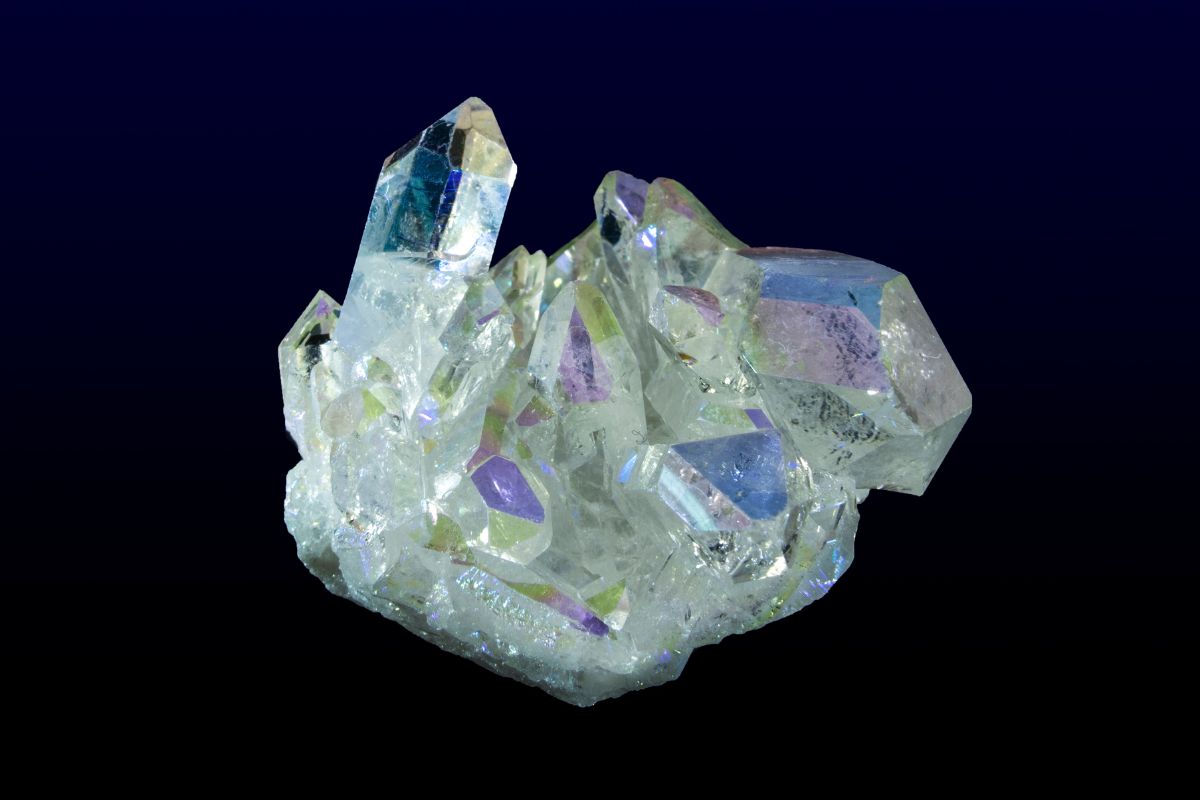 This specimen also comes from India and is naturally iridescent with flashes of green, blues and yellows. The cluster has well terminated points and contacts around the edges. The points are filled with flashes of color that are more obvious in person.
If you are a very stubborn person this crystal can help you to understand differing opinions and remove your obstinacy. It can also help to improve your communication with its power to rid you of your fears.
The cluster weighs 369 grams and measures 2 inches by 2 ½ inches by 4 ½ inches.
A cluster of anandalite which is also known as aurora crystal or rainbow quartz. The name anandalite means 'divine bliss' so prepare to achieve this state when you own one of these crystals. This high vibration stone has the potential to change your life.
This is a particularly good stone for those who are new to healing crystals. The gorgeous aurora crystals have the ability to inspire creative motivation and to help those looking for original ideas. Use the crystal to help with fears of public speaking and socializing.
A high vibrational and top grade anandalite crystal which will bring happiness and joy into your life (see also, '9 Crystals for Joy').
This specimen was mined in the Himalayan Mountains and is believed to help with self awakening. It will also assist you in realizing your true potential.
This particular crystal measures 2 ½ inches by 2 ½ inches and weighs 186 grams. It would make a wonderful gift for anyone who is new to healing crystals or a great addition to any crystal or stone collection.
It comes with its own stand so that you can proudly display it.
This is a stunning example of a raw anandalite quartz crystal. It is also referred to as Samadhi quartz or a crown chakra stone. For the perfect crystal to begin the day with meditation it will give you an uplifting energy.
The size of this crystal is 3.2 inches by 2.3 inches by ¾ inch and weighs 105 grams. So it is perfect for holding in your palm as you meditate or keep on your person. This is a cleansing, healing and amplifying crystal and can be used for all chakras.
These translucent iris quartz points will help you with physical ailments as well as giving you spiritual energy and cleansing.
It will help with conditions such as seasonal affective disorder, menstrual symptoms and metabolism balance.
Iris quartz or aurora crystals are associated with the astrological signs of Cancer and Leo and can be used for all chakras. Its numerical vibration is 4 and 7.
Use this crystal for emotional, spiritual and physical healing and cleansing.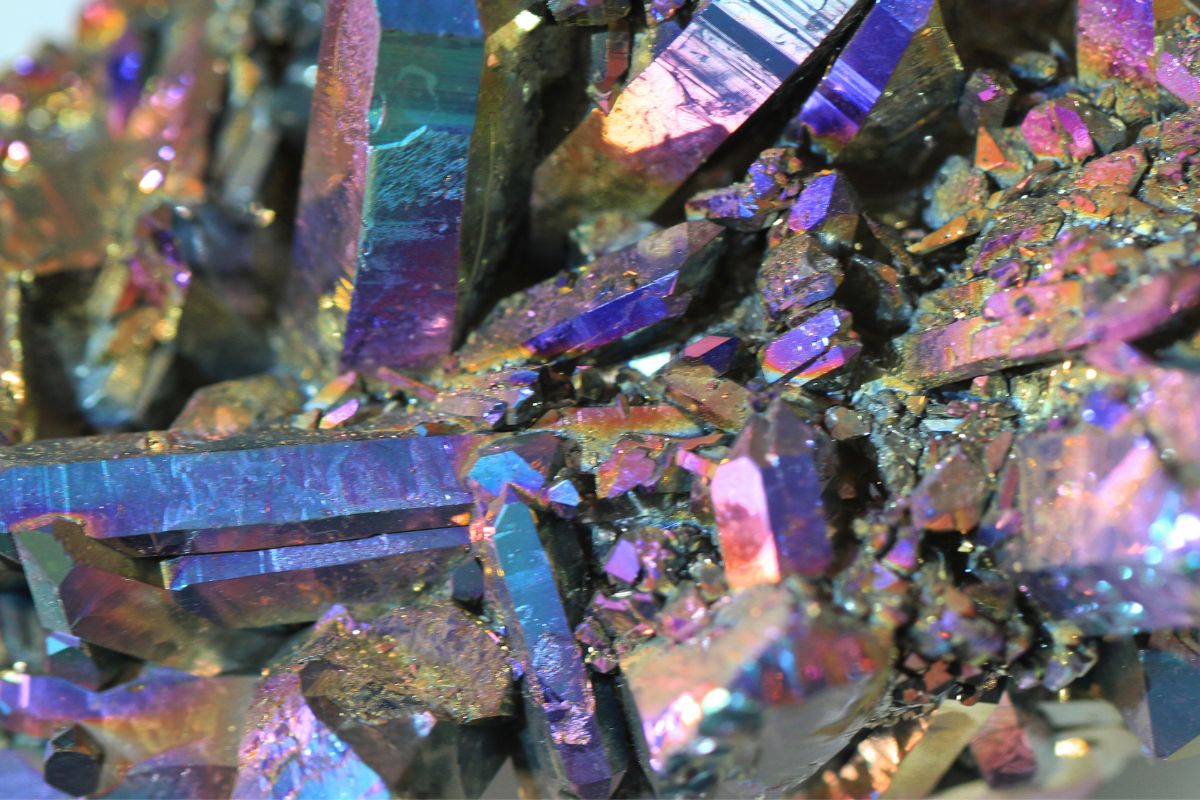 An extra large cluster of rainbow quartz is a rare find and is hard to come by.
The size of the specimen is approximately 8 inches by 5 inches and completely natural. It weighs 1,970 grams and gives beautiful flashes of red and blue on the crystals.
If you are trying to get beyond any emotional or mental blockages this crystal will help you move towards a more meaningful and optimistic future.
For those who are resisting change it will help you to accept these things in your life.
This is a stunning crystal with very obvious and beautiful hues of blue in the stone and on the underneath of the stone.
The flashes of color as it moves under light are gorgeous. This piece is 1.9 inches wide, 3.9 inches high and 0.9 inches deep, and it weighs 238 grams.
With this crystal you will be able to clear your mind of energy draining and destructive thoughts. You can then replace them with positive thoughts with the regular use of the aurora crystal.
A wonderful aurora crystal cluster which is extra large and very powerful with the ability to facilitate spiritual awakening.
It will also activate any dormant potential and kundalini energy. The piece is 13.7 inches by 6 ½ inches by 4 inches, and it weighs 4950 grams.
This is a wonderful stone for helping you to align with higher frequencies, and it encourages unity with the spirit.
For physical wellbeing the crystal stimulates the central nervous system along the spine from the root to crown. Its energy and vibration creates warmth.
This beautiful raw anandalite quartz crystal has wonderful flashes of blue and green as it moves under light. It would make a wonderful gift for anyone interested in beginning work with healing crystals.
The piece is just over 2 inches by 1 ½ inches and is slightly more than 1 inch deep. It weighs just 67 grams.
It is the perfect size to hold in your hand as you meditate and allow it to work through its high vibration. It works particularly well to release past emotional pain.
A lovely rainbow aurora crystal which displays iridescent reflections from the clusters of small points on its surface.
This stone is 1 ½ inches by 2 inches by just over half an inch. A perfect palm size or pocket size crystal to keep with you at all times.
The chalcedony base of the crystal is a grayish color. This stone produces flashes of green and blue as it is moved under light, a phenomenon which emanates from inside the crystal due to its structure.
A high vibration crystal with healing properties.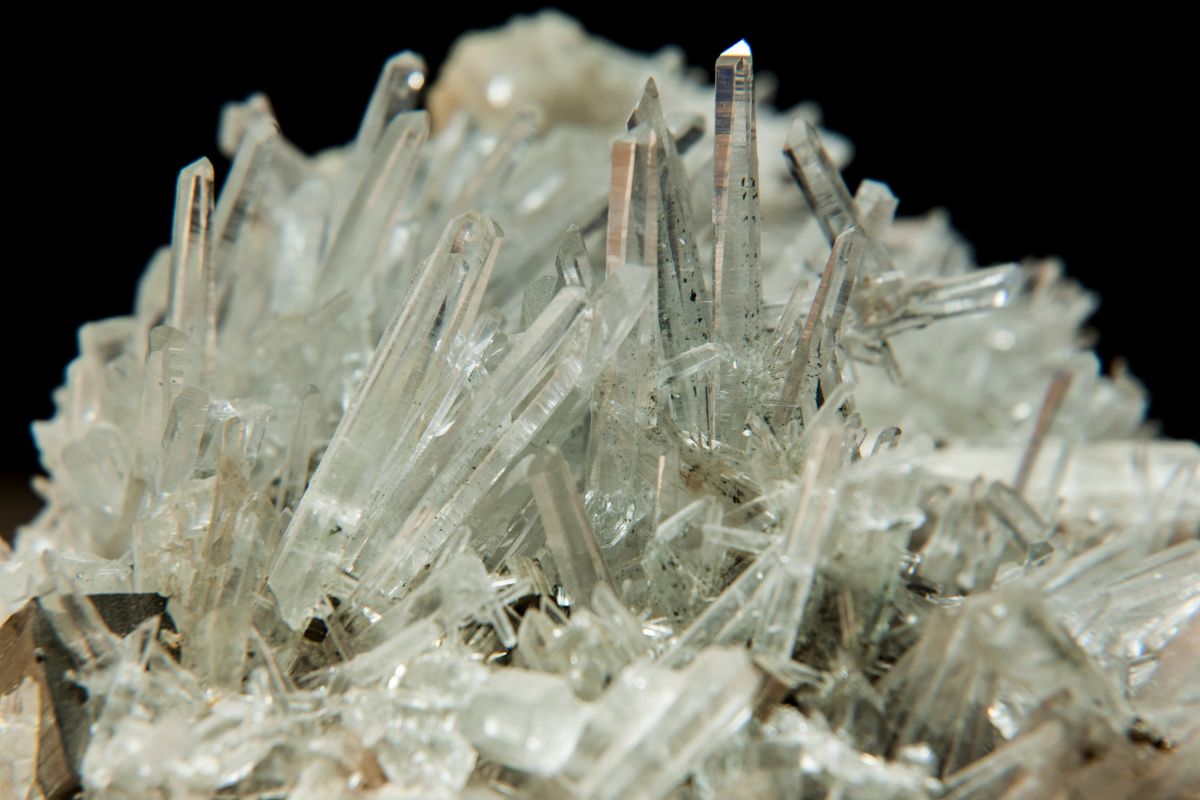 What a beautiful aurora crystal in a rare stalactite cluster. Found in India it measures just under 3 inches by 2.3 inches and is 0.9 inches deep. It weighs only 86.9 grams.
As a healing crystal this cluster will help you to rid your mind of noise and unhelpful thoughts. It will also assist you to develop and improve the relationships in your life.
An unusual and rare crystal to add to your collection.
Final Thoughts
We really hope that you have enjoyed our guide to these 15 beautiful aurora crystals and that you have learned something about these amazing, high vibration and healing natural stones.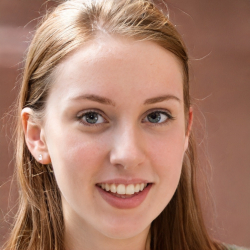 Latest posts by Andrea Daehma
(see all)