Tarot reading is an incredibly popular practice, as it allows us to gain insight into the past, present, and future of our lives.
When doing a tarot reading, you are able to ask the cards certain questions, and hopefully you will find the answers you have been looking for.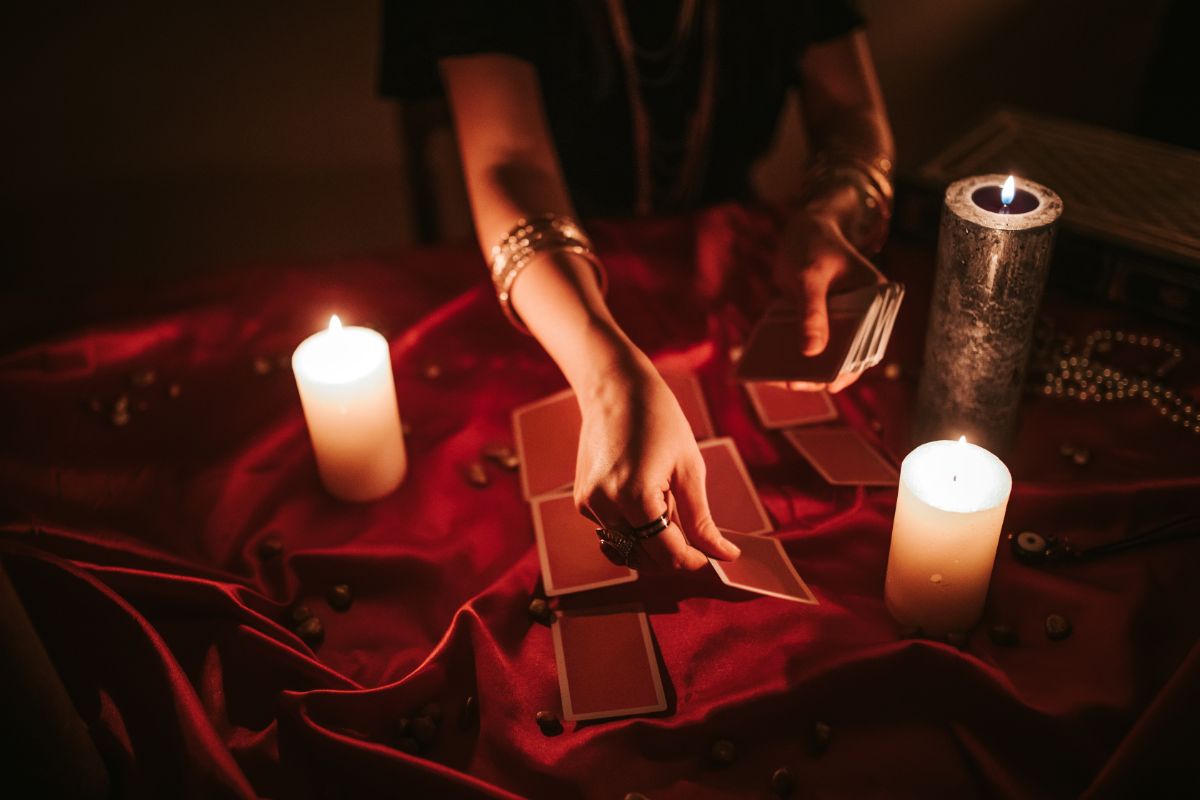 One of the many important questions we often have about our lives concerns our relationships. You may wonder if you are in the right relationship, if your crush feels the same way about you, or if you will ever find true love.
If this sounds like you, then you will benefit from a love tarot reading.
What Is A Love Tarot Reading?
A Love Tarot reading is the perfect solution if you are looking for answers about your love life, relationships, or partner.
It is a type of three card reading that will help you get to the root of the problem, and assist you in understanding what challenges your love life is facing, or why you have been hurt in the past.
A Love Tarot reading is therefore a more specific reading of the cards. The purpose of this type of reading is to explore and explain all different types of romantic issues you have been facing, whether this is in the past, present, or future.
How To Do A Love Tarot Reading
If you want to learn more about your relationship, or perhaps you want to help provide insight for someone else, you can do a love tarot reading. To do so, you will have to focus on relationships for the reading.
You can do this with a three card spread or a five card spread.
3 Card Spread
Most people will opt for a simple three card spread if you want quick answers. To do a love tarot reading, you will need to shuffle the cards, while focusing on the question you wish to ask the Tarot.
Once shuffled, pull the first card, and lay it down on the far left. Then, pull the second card, and lay it down on the far right, leaving space for the third and final card to go in the middle.
The far left card depicts you, your role in the relationship, how you see yourself, how you behave, and how this can impact your partner or lover.
The far right card, the second card, depicts your lover or partner. This card will talk about their role in the relationship, how you perceive them, and how your view of them impacts your relationship.
The final card, the middle card, will describe the relationship dynamic as a whole.
5 Card Celtic Cross Inspired Spread
The second option is a 5 card spread, which is inspired by the Celtic Cross style spread, although it is not exactly the same. For this spread, you will need to again shuffle the Tarot cards, and visualize your question.
Then, begin in the same way by picking the first card, and placing it on the far left side. Then pick your second card, and place it on the far right, leaving a gap in the middle. Now, this is where it changes.
For the third card, place it above where you would normally put the middle card, again leaving the gap.
The fourth card goes where your third card would typically be placed in a three card spread, then add your fifth and final card below the middle card. You should end up with a cross formation.
The first card will talk about your role and feelings in your relationship. The second will talk about your partner's role and feelings in the relationship. The third card depicts your romantic past, and how you two found each other.
Then, the fourth represents the current state of the relationship, such as the relationship dynamic currently, and the fifth card depicts the future, or where the relationship is going.
What To Ask In A Love Tarot Reading?
When you are ready for the tarot reading, you will need to have a question in mind about love or relationships to ask the cards for guidance.
Some examples are:
How do I find my twin flame?
How can I find my soulmate?
Should I follow my heart?
What should I look for in a partner?
Are there things I should know about my relationship?
Are my partner and I suited to each other?
Does my crush feel the same way about me?
What do I need to work on for myself/my partner?
Will I find true love?
Am I ready for a relationship?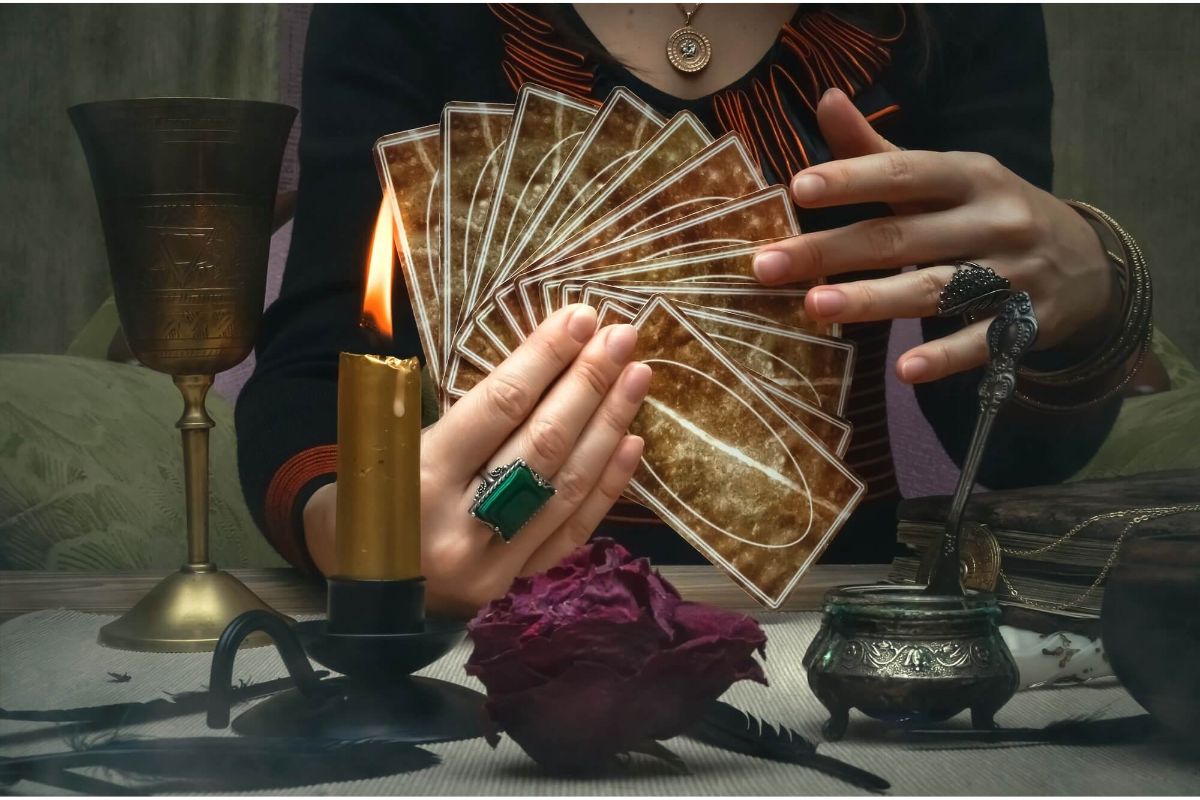 Best Love Tarot Cards & Meanings
Of course, any Tarot cards can come up during your reading, but here are some of the ones closely tied to the notion of love, relationships and partnerships.
The Lovers
Of course, The Lovers is a fortunate card to come up in a love tarot reading. This card represents a deep bond between two people. If this card appears, then you have a very loving, authentic relationship filled with respect, affection, and trust.
The Empress
The Empress is a beautiful, fertile and fruitful depiction of femininity. This card represents your sensuality, and the intimate connection you have with your lover.
The Emperor
He is an authoritative male figure. This card represents that your partner is in it for the long run.
The Hierophant
This card is all about structure and tradition. In a love tarot reading, it can connote that you are in a deeply committed relationship.
Two Of Cups
This card depicts the stable bond between you and your partner. This can reflect how committed you are as a couple.
Ten Of Cups
This card represents a familial bond. You may have a happy family with the perfect partner, and are completely settled and content.
Four Of Wands
If this card appears, it can be a sign of great celebration. Perhaps an engagement, wedding, or commitment is on the cards for you and your partner.
Knight Of Cups
This card depicts your knight in shining armor. It therefore represents that you are being courted by someone special.
Final Thoughts
To conclude, a love tarot concerns all things in your love life and relationships.
There are many ways in which you can do a love tarot reading, as long as you consider your question beforehand, and draw the cards while thinking about the relationship in question.
The cards that are pulled can help you understand your role in your relationship, your partner, the past that led you to that person, and the future of your connection with another person.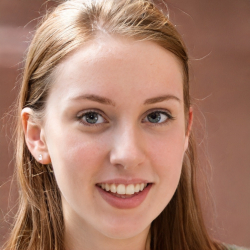 Latest posts by Andrea Daehma
(see all)